Time is everyone's greatest luxury and we want you to dedicate yours to unique experiences. That's why Lincoln Pickup and Delivery™ in Covington LA provides you with an effortless way to service your vehicle. With this program, instead of driving to the dealership, you simply schedule a time and place for one of our Service Valets to pick-up your Lincoln. Our Service Valet will bring you a loaner vehicle to use for the time yours will be receiving service or maintenance. Once your Lincoln's service is complete, our Service Valet will return it to you at the place and time you request. Stop using your precious time driving your Lincoln to and from service appointments.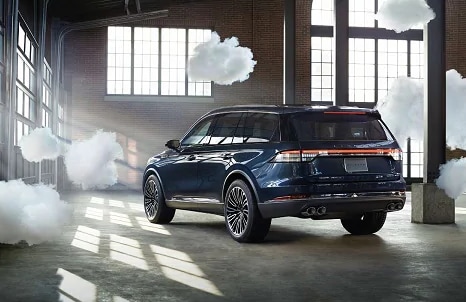 Make the most out of your time and dedicate it to what matters the most to you. Our Lincoln Service Valets and repair staff in Covington LA will take care of the rest. Owning a Lincoln has never been simpler, easier, and more effortless. Learn more about the Pickup and Delivery program and see why it has become part of the Lincoln Experience.
HOW DOES IT WORK?
Service your Lincoln in 4 simple steps.
1. SCHEDULE
We make it easy and convenient to get in touch with us. Simply use the Lincoln Way™ app or contact Baldwin Lincoln directly to schedule the most convenient date, time, and place to pick up your vehicle for service.
2. EXCHANGE
Our Lincoln Service Valets will come to your door anywhere within 20 miles of the dealership to pick up your vehicle and exchange it for a Lincoln Loaner™ so you can continue driving while your Lincoln is in service.
3. PROGRESS
Obtain convenient updates on the status of your Lincoln, the progress of your service work, an alert once it's completed, and notification when the Service Valet is on the way back to your place. Stay informed while on the go or at home; we'll keep in touch with you via text and email.
4. DRIVE
When service is complete, we will wash and prepare your vehicle before taking it back to you. Our Service Valets will handle the delivery process and you and your Lincoln will be ready for your next adventure together.
PART OF THE LINCOLN EXPERIENCE
No other luxury brand provides owners with pickup and delivery servicing through their full line of models. Time is your most valuable asset and we want you to take advantage of it. Dedicate your precious time to the things that are most important to you and let us handle all of your service and maintenance needs.
It doesn't matter what model of Lincoln you want to service, the Lincoln Pickup and Delivery program is valid for all owners of 2017 and newer model-year Lincoln vehicles for both retail and warranty repair. For more details contact Baldwin Lincoln and one of our representatives will provide you with all the information you need.
DON'T HAVE A LINCOLN YET?
Join the Lincoln luxury experience and take advantage of this and many other benefits of the Lincoln Way. Look through the extensive selection of luxury sedans, crossovers, and SUVs available at Baldwin Lincoln in Covington LA and become the proud owner of one of our luxury models today. Visit our showroom or contact us to get started.