The 2017 Lincoln MKX is a truly inspiring SUV, with its gorgeously crafted lines and elegant contours. Teeming with safety features and an impressive array of technology, it's sure to grab the attention of everyone not driving one.
It all starts with the attention to detail that you see as soon as you step into the cabin of the MKX, the beautifully made Bridge of Weir leather trimmed seats bringing you into a new level of comfort and the 10-way adjustable front seats further enhancing your comfort. Make that 22-way adjustment if you've plumped for the optional extra.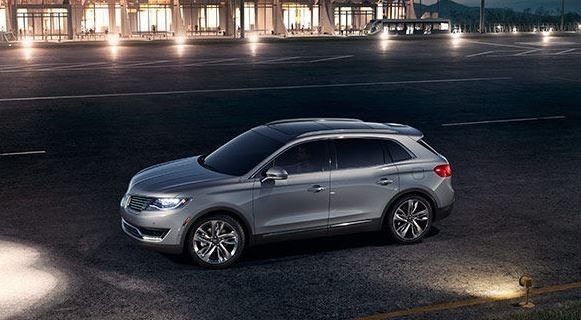 As you gaze around the cabin you will see more of the perfectly balanced interior, such as the unique wood trims and the panoramic vista roof, which seamlessly blend together to create an air of luxury that's hard to come by. With various technologies to enhance your driving experience, such as Lincoln's Drive Control and Adaptive Steering, you will soon find yourself begging for your journey to last longer. All this married to the 8-inch touchscreen and Lincoln's Sync 3 media interface and 10-speaker system and you might find yourself never wanting to leave the MKX's interior again.
The Lincoln MKX comes with two generous powertrains to choose from, both are an excellent choice and will continue powering you in pure comfort and bliss.
3.7 Liter V6
The first engine offering from the Lincoln MKX is a beautifully crafted 3.7 liter V6 which produces a staggering 303 horsepower with 278 lb-ft of torque. It is teamed with Lincoln's six-speed automatic transmission and while the MKX comes with front wheel drive as standard, it is available in all-wheel drive as an optional extra. This engine's performance is more than enough for you to be able to tow up to 3500 pounds with ease.
For those concerned about fuel economy, worry no longer, for the Lincoln MKX delivers a solid 17/25 mpg for city/highway driving when equipped with front wheel drive and a respectable 16/23 mpg when you go for the all-wheel drive option.
2.7 Liter V6
Lincoln's second engine offering for the MKX is in the form of a beastly 2.7 liter V6. This engine has been designed to provide huge power and still deliver excellent fuel economy and it seems like the designers at Lincoln have come up trumps with this. The engine produces 330 horsepower with a huge 380 lb-ft of torque, this is enough to power the MKX from 0 – 60 mph in just 6.2 seconds, putting it in great standing for the luxury midsize SUV class.
Moving onto the fuel economy, the engineers have done an excellent job and the 2.7 liter engine gives 18/25 mpg for city/highway with the front wheel drive version and 17/24 mpg for the all-wheel drive option.
The 2017 Lincoln MKX is a balanced and beautifully crafted vehicle that will cause jealousy with any who can't experience the luscious interior and fantastic drive. To make sure that that isn't you, plan a visit to a Lincoln dealership near Slidell, LA now.
Sources:
2017 Lincoln MKX Review, Edmunds.com
2017 Lincoln MKX, Lincoln.com