Way back in 1998 and 1999, the Lincoln Navigator and Cadillac Escalade were two of the very first luxury SUVs on the road. Now, more than 20 years later, you may still be trying to decide between the
2021 Cadillac Escalade near New Orleans LA
and the Lincoln Navigator.
If you're shopping for a new luxury SUV, you might be having trouble deciding between the newest models of these American behemoths. They share several features and have quite a lot of similarities, so how do you make the best choice? Let's compare…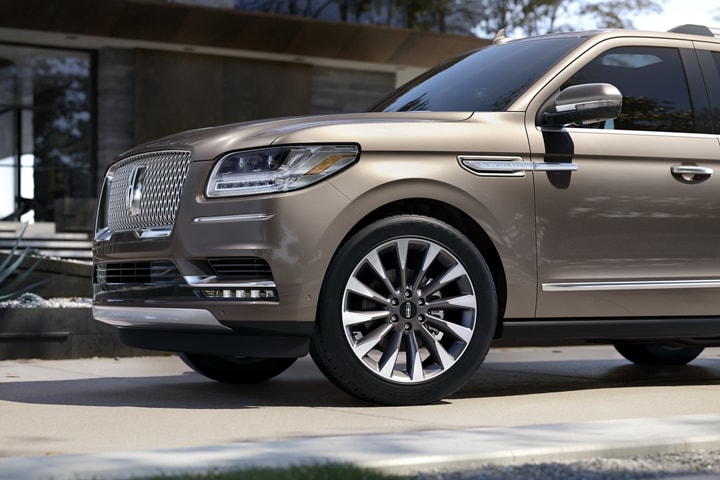 Exterior

Beginning with the exteriors, they're both about the same length now, thanks to the 2021 Cadillac Escalade near New Orleans LA getting seven inches added to it. With the added length it's now one inch longer than the Lincoln Navigator. This was supposed to compensate for the smaller passenger volume of last year's Escalade, and it does somewhat - in the cargo area. The passenger volume in the first and second rows is very close, but the Lincoln Navigator clearly has the advantage in the third row.


Power

Under the hood, the Escalade still has a 6.2-liter V8 that delivers 420 horsepower and 460lb-ft of torque, and it's paired with a 10-speed automatic transmission. The Lincoln Navigator has a smaller, yet more powerful engine, with a 3.5 liter twin-turbo EcoBoost V6 that produces 450 hp and 510 lb-ft of torque. It too is mated with a 10-speed automatic transmission.


All that torque and horsepower helps the Lincoln Navigator tow up to 8,700 lbs when properly equipped. The Escalade's tow ratings have yet to be confirmed but are expected to be close to or slightly less than the previous model; probably 7900 to 8200 pounds. Both brands will have similar towing gear/features, but Lincoln one-ups Cadillac with Trailer Backup Assist. This cool feature lets you use a rotary knob on the console to steer a reversing trailer.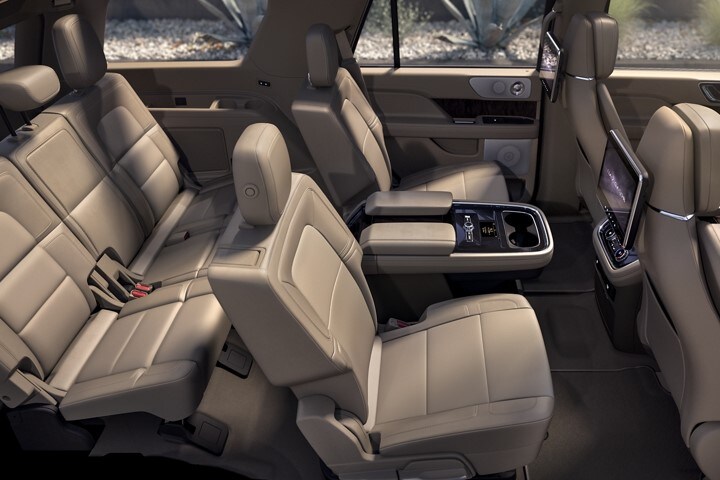 Interior


Although the Lincoln Navigator previously had a more modern interior, it may now be better described as a mix of modern and retro, and the 2021 Cadillac Escalade near New Orleans LA can now be described as "super modern." Both SUVs come seriously loaded with features, so very few expenses have been spared. Wood trim leather, and top quality craftsmanship abound in both, although the Lincoln has standard leather seating, while the Escalade starts with synthetic leather. Undoubtedly though, the Lincoln Navigator has the ultimate in seating. Even the base model is filled with comforta
ble seats, but the driver's seat is an especially plush, 30-way automatically adjustable cushion of comfort that can't be found anywhere else. Heated front seats are standard in both SUVs; however the Lincoln Navigator adds an outstanding massage function. You'll swear you're in a La-Z-Boy® on wheels while riding in the Lincoln.
2021 Cadillac Escalade near New Orleans LA: Interior


The interior of the Escalade seems to be filled with screens. Combined, there's 38 inches of curved OLED high-contrast screens in the cabin. A 16.9 inch touchscreen for the infotainment system, a 14.2 inch digital instrument cluster, and a 7.2 inch touchscreen to the left of the instrument cluster. Yes, the 2021 Cadillac Escalade near New Orleans LA has more advanced screen technology, but it could feel like overkill to some buyers. How many screens do you really need? These screens could easily distract even the most focused driver.


In either of these luxury SUVs drivers will be surrounded by quality audio by Harmon Kardon. The Escalade delivers it by way of 19 speakers. An upgraded 20-speaker system or a standard 14 speaker arrangement is included with the Lincoln.


The 2021 Cadillac Escalade is much more competitive than the older model, which makes the two full-size American luxury SUVs much closer rivals than before. However, the Lincoln Navigator comes out on top for style, comfort, and overall refinement. Visit us at Baldwin Lincoln to experience for yourself the luxury that is Lincoln.