When talking about purchasing a new vehicle we hear the terms "crossover" and "SUV" frequently. Baldwin Lincoln knows plenty about 2020 Lincoln crossover SUVs near New Orleans LA, and we would be happy to help you determine which one will best fit your lifestyle. Starting with the basics, a crossover is based on a sedan platform or a unibody design (one piece) while the SUV uses a truck chassis, body on frame design (separate parts put together).
Lincoln crossover SUVs near New Orleans LA come in a range of diverse models, the 2019 Lincoln MKC, 2020 Lincoln Corsair, 2019 Lincoln Nautilus, 2020 Lincoln Aviator, and the 2019 Lincoln Navigator.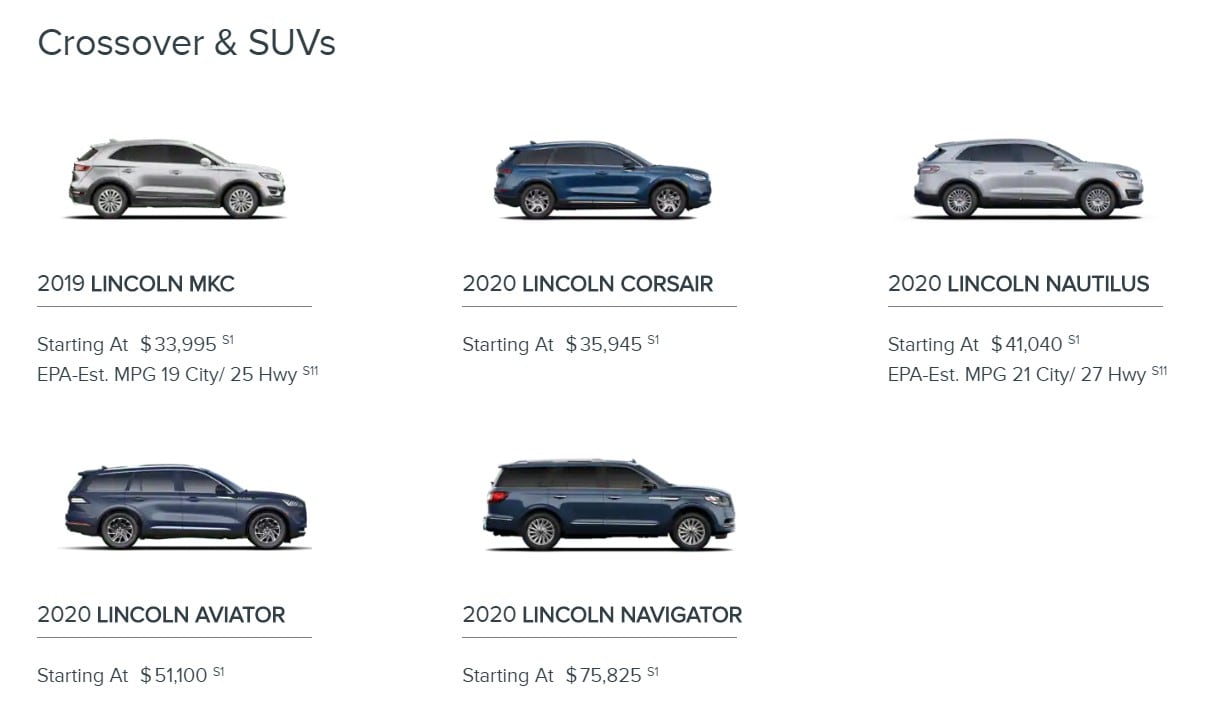 Which 2020 Lincoln Crossover SUVs Might be a Good Fit for You?
The 2019 Lincoln MKC Crossover SUV's striking design is bursting with convenient functions and lavish conveniences including Bridge of Weir Deepsoft leather and Lincoln Drive Control with three drive modes. The 2019 MKC is available in four trim levels ranging from around $33,995 to $47,200. A number of driver-assist features are available including adaptive cruise control, lane keep system with automatic emergency braking, navigation with Waze, Amazon Alexa, and 4G LTE internet. Lincoln Black Label is a premium service including professionally selected interior themes and elite membership privileges.
Fierce performance, versatility, and excellent cornering are characteristics of the 2020 Lincoln Corsair Crossover SUV. This vehicle is available in two trim levels starting at $35,945. A luxurious and roomy cabin boasts a collection of instinctive safety technologies. Lincoln plans to release the 2021 Lincoln Corsair Grand Touring Plug-in hybrid during the summer of 2020. Look for a unique grille design, 20-inch wheels, and seven different drive modes.
Drivers looking for a crossover SUV that can adapt to their evolving lifestyle will appreciate the 2020 Lincoln Nautilus. A Panoramic Vista Roof brings the outside in from the comfortable the driver's seat and the hands-free liftgate is helpful when loading and unloading cargo. The 2020 Lincoln Nautilus is available in four trim levels starting at $41,040.
The 2020 Lincoln Aviator SUV transports you to new heights in luxury. A three row SUV combined with exquisite interior, wrapping you in comfort perfectly describes this vehicle with sophisticated safety technology and innovative amenities like the Lincoln Embrace, illuminating to greet you. Lincoln offers seven distinctive drive modes and a collection of driver-assist features in the Lincoln Aviator that adapt to changing road conditions. The 2020 Lincoln Aviator is available in five trim levels starting at $51,100.
Elite luxury comes with the 2020 Lincoln Navigator SUV; designed with a consistent flow of premium comfort and best-in-class third row leg room. Nothing has been overlooked in this SUV from style to performance to comfort. The seats offer 30 adjustment and massaging setting as well as Active Motion heated and ventilated seats with thigh extenders for a relaxing driving experience. The 2020 Navigator is available in five trim levels, starting at $75,825.
2020 Lincoln crossover SUVs near New Orleans LA, simply put, include all of Lincoln's non-sedan vehicles. The smaller of these vehicles, such as the Lincoln Corsair, Lincoln Nautilus, and Lincoln MKC are considered crossovers. The crossover SUV is built on a car platform, provides a smooth ride, is lighter, and typically gets better fuel economy, all while sacrificing very little in terms of space. The larger vehicles such as the Lincoln Navigator and Lincoln Aviator are traditional SUVs. The traditional SUV is heavier, uses a truck chassis, is more rugged, is able to haul larger loads, and is built for tougher terrain. Whether you choose a crossover SUV or a traditional SUV you can't go wrong with a Lincoln from Baldwin Lincoln.